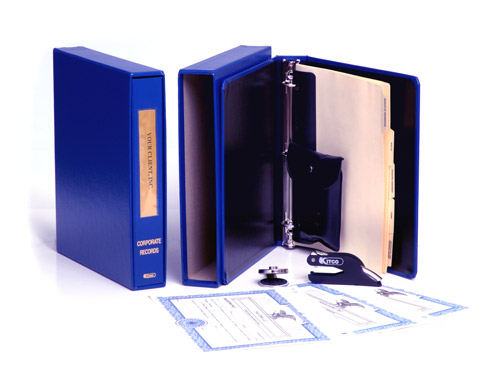 Handsome, durable three ring binder encased in matching slipcover
Gold label on spine of binder imprinted with corporate name
Five mylar reinforced tab indexes for Articles of Incorporation, Minutes, Shareholder Management Agreement, Forms and Stock Certificates/Transfer Ledger
Printed minutes, shareholder management agreement and forms which require minimum completion with insertion of name of corporation, shareholders, officers, etc.
All minutes, agreements and forms are tailored to specific state law with appropriate code sections.
Book of twenty stock certificates imprinted with corporate name, total shares authorized and par value. Each certificate is separated from the next by a transfer sheet. Each stock certificate is printed with any required statutory notice identifying the entity as a statutory close corporation.
Stock ledger which details names of shareholders, number of shares held and dates of issuance and transfers of stock
Pocket corporate seal (steel with onyx and chrome finish) in black vinyl seal case which fits into binder. Seal is imprinted with corporate name and year of incorporation.
Instructions for Secretary and Practitioner for easy completion of corporate book
Note: In the statutory close corporation kit, a shareholder management agreement, rather than bylaws, is standard. If bylaws are preferred, please so indicate under the additional information portion of the order form.